№1 Online Payday Loan Affiliate Program
Your business. Our expertise. Your initiative. Our assistance. If you are looking for opportunities to grow online, LeadsGate is here for you. We are the best payday loan affiliate program, known for our customized decisions, premium benefits, and devotion to our Affiliates. We know no rivals in the industry.
Why LeadsGate stands out
We offer innovative solutions that move you and your business forward.
1
Lead Prices Up To $230
We strive to see your income skyrocket. Our smart online platform gives the highest payouts for the sold leads.
2
Priority selling system
Our priority selling system increases earning from traffic majorly, allowing you to achieve results in no time.
3
Declined leads monetization
We are convinced that every effort deserves a reward. LeadsGate is ready to pay you even for declined leads.
Join our community and open yourself up to new possibilities in affiliate marketing
Join Us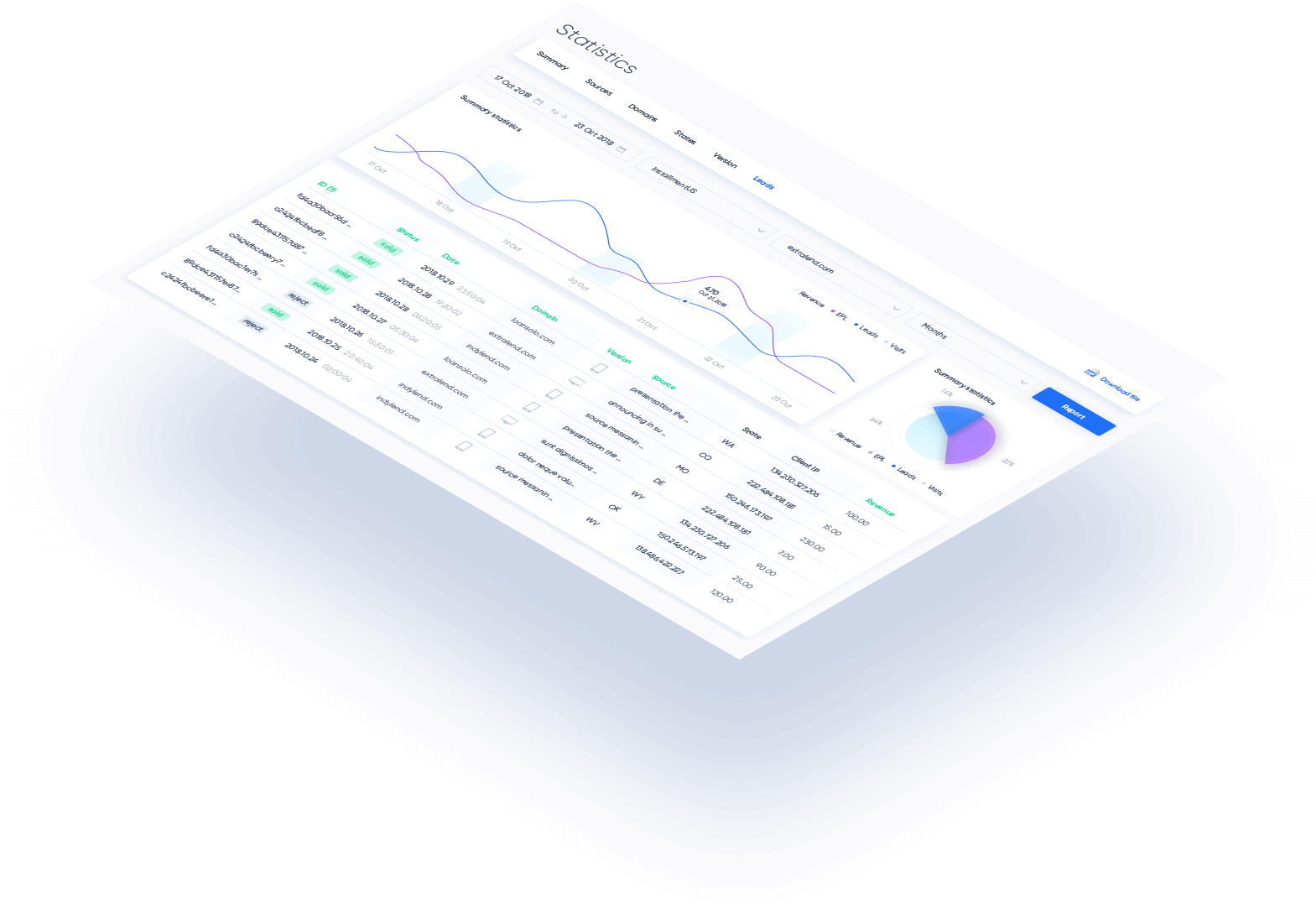 We deliver a full package of marketing services
LeadsGate is a leader among affiliate programs for payday loans thanks to its wide-ranging services. Make the most of our products. We have options for everyone.
Winning team is here for you
LeadsGate takes pride in its staff. Together we came up with a formula that drives us and our Affiliates to success. Here is our recipe for market leadership:
high-standard industry
competence

total data
discretion

flawless payout
reputation

well-tried working
efficiency

quick professional
support
Customized Public Offers
Our qualified specialists create public offers for the US online short-term loan industry from start to finish. Increase your traffic and generate quality leads with a crafted solution from LeadsGate.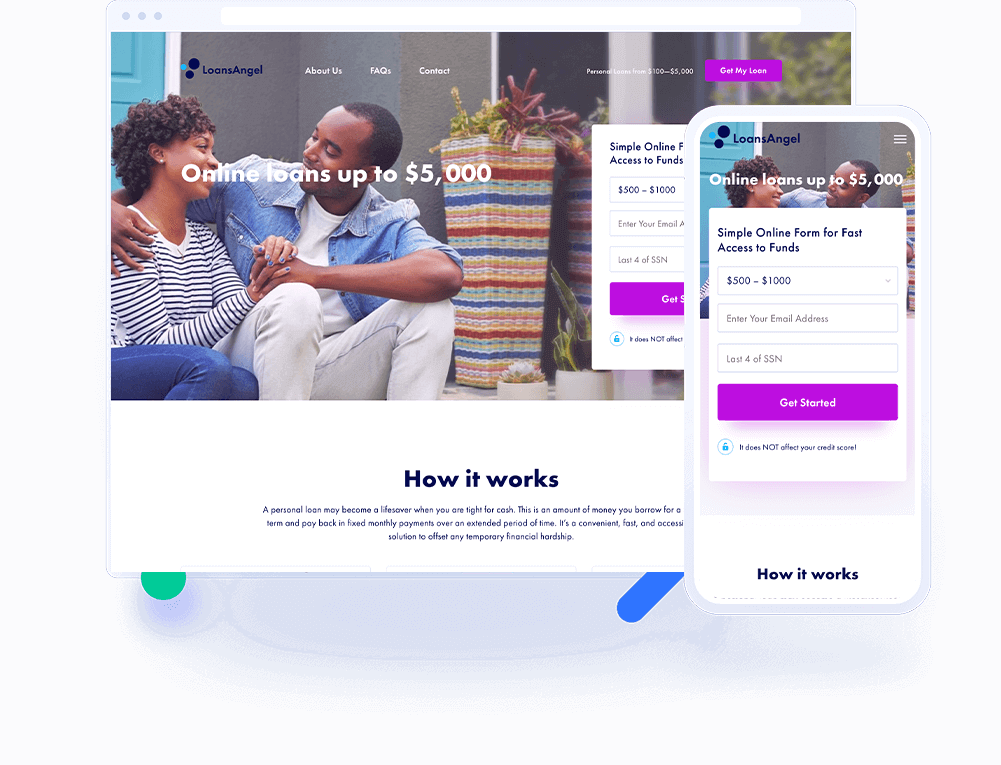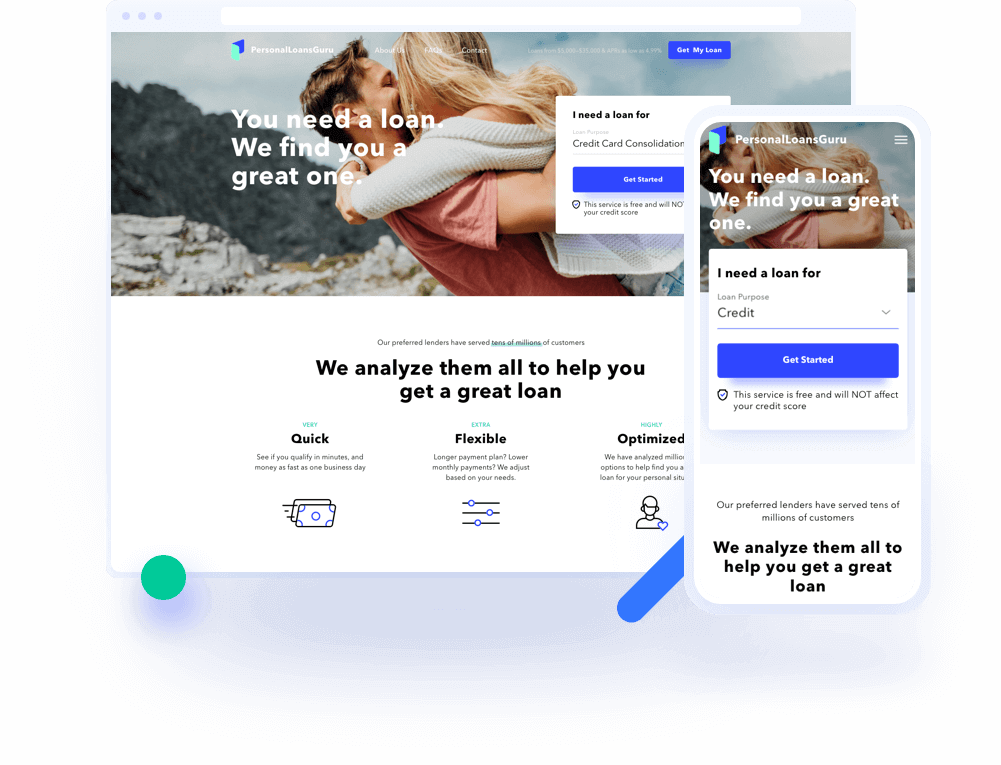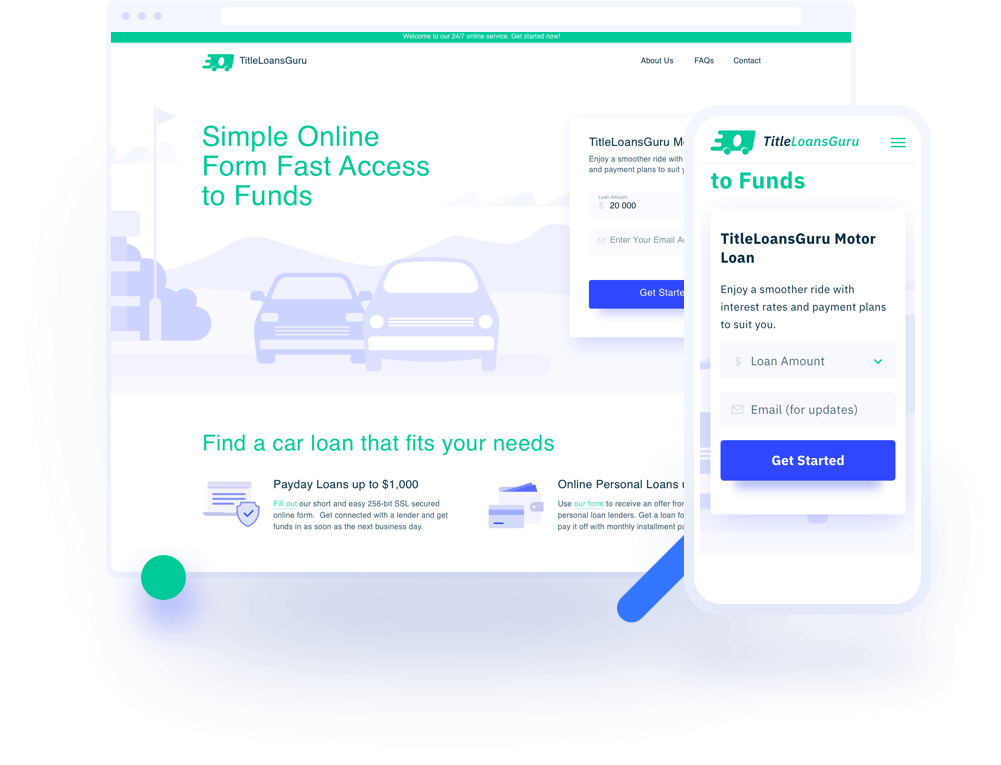 Clear-Cut JavaScript Forms
Our simple JS forms are developed according to high industry standards. Affiliates appreciate their functionality and user-friendliness. Our forms have the highest conversions in the industry and, as a result, raise more revenue.
Industry-compilable forms
High usability
Perceptible visual elements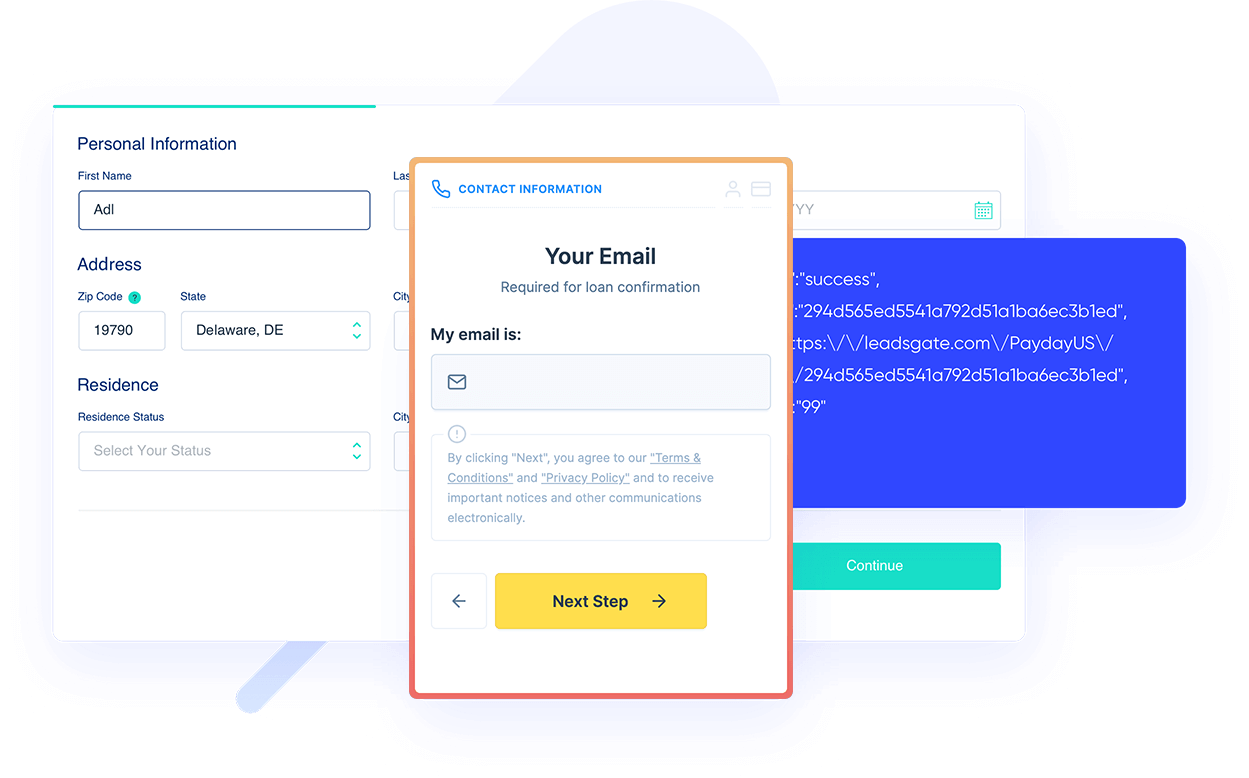 Premium options for top affiliates
API
Keep things simple and save time by posting traffic directed from your website form.
Unique offers
Our top affiliates can enjoy brand new offers designed exclusively for them.
Customized solutions
We cater to the specifics of your business and provide you with tailored solutions.
Experience first-class benefits with US payday loan affiliate program №1
Get Started
Stellar reputation of payouts
LeadsGate has cemented an unchallenged reputation of a reliable partner that always pays on time. We do what we say, and say what we do.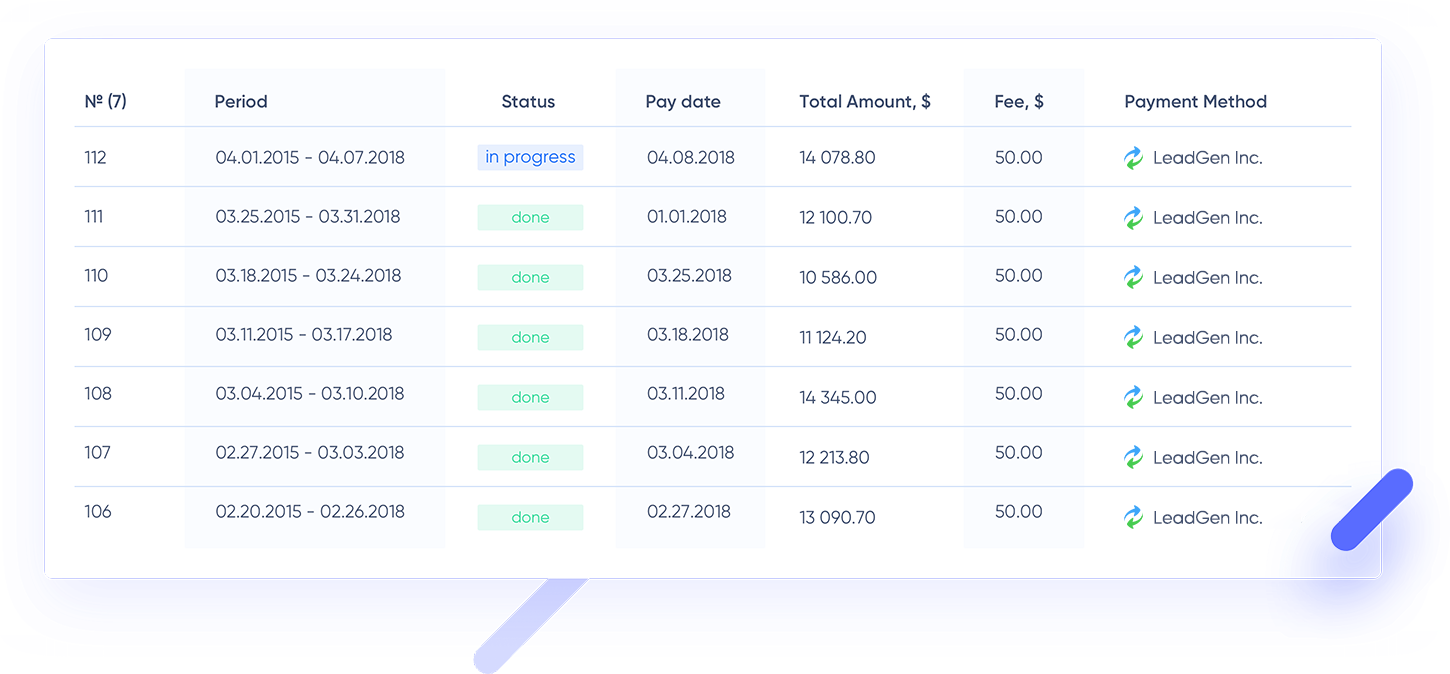 Payment methods suitable for everyone
We always pay on time. For added convenience, we offer various payment methods to ensure that you easily receive revenue for work done. As soon as you reach the minimum payment threshold and earn at least $100 with LeadsGate, you are able to receive your money with one of the online payment systems listed below: PayPal, Wire Transfer, ePayments, or Webmoney.
Platform beyond compare
LeadsGate emerged as the number-one online payday loan affiliate program thanks to a set of game-changing benefits. We provide you with first-rate services that have made us acknowledged leaders in the payday loan field.
$230

We sell your lead at top price up to $230

3% referral

Refer an Affiliate and earn 3% of their revenue

10K+ affiliates

More than 10,000 affiliates all around the globe

5 years

5 years of outstanding results.
Join Us
Focused on US market
SEO Expert Advice
LeadsGate is №1
Why? See for yourself
We are not afraid of comparisons, because we are unbeatable. LeadsGate keeps evolving, as we believe that there is always room for improvement. The list of benefits below speaks volumes about us as industry leaders.
LeadsGate
Priority selling system

LeadsGate helps you earn the highest payouts on the market.

Payouts for declined leads

LeadsGate makes it possible to earn extra profit for rejected leads.

Weekly payments

ALL Affiliates are paid every week, always on time.
Other loan affiliate programs
Have a poor lender base

Leads are sold at lower prices or not sold at all.

Don't pay for declined leads

If a lead is declined, you gain nothing.

Less attractive payment terms

Bi-weekly and Monthly Payments.
Added values of LeadsGate
Responsive support and customer service
Robust analytics and stats
Wide array of useful marketing tools
Only vetted advertisers and affiliates
Become a part of the LeadsGate community and take the lead yourself
Create Account